Stuffed Animal Props for Window Displays and Store Windows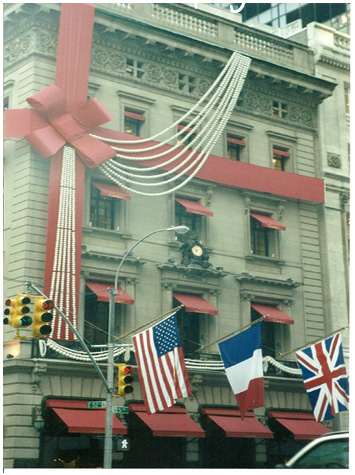 Retail Store Windows all over the world are decorated using Hansa plush animals. Our
lifesize animals
,
gift size
animals, and
Mechanical Animated Animals
are regularly used as props in window displays because of their incredibly realistic appearance. Both the casual viewer as well as the most scrutinizing individual are easily drawn into the fantasy being depicted in the window displays by our plush animals.
Retail giants such as
Saks Fifth Avenue
,
Macy's
,
Ralph Lauren
, and
Bloomingdales
use Hansa lifesize and gift size plush animals to "wow" their customers and passers-by. Window decorators rely on Hansa plush animals to bring their clients' windows to "life" in major cities and not-so-major cities throughout the world.
Hansa plush animals enjoy prominent positions in Holiday window displays for numerous retail stores ranging in size from small business to retail giants like the ones listed above. Keep your eyes peeled for our
Huskies
,
Polar Bears
,
Penguins
, and other
arctic animals
during the winter in store windows, shopping malls, banks, office building... everywhere you can imagine a display! You're sure to see Hansa plush animals in displays everywhere - why not build your display with them too!
Add movement to your display with our ANIMATED
Hansatronics Mechanical Animals
- imagine our heirloom quality, realistic, and lifelike animals with movement; heads turning, wings flapping, tails swaying...if you can imagine it, we can make it happen! Our professional design staff can help you design and build stunning displays for your space: shopping malls, stores, even your home!
If you need props for your window display, HansaToyStore is the place to find them!
Need it Fast?
If you need your props fast, no worries. We can accommodate virtually any delivery requirement. We can often deliver SAME DAY or NEXT DAY when necessary.