Snow Rabbit (4672)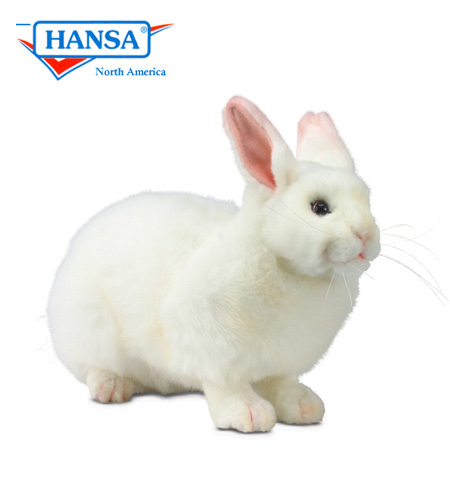 Animal Facts:
Weighs from about 1-5kg & attain a length of about 30-60 cm, feeds usually at night, mainly on herbs, tree bark, and vegetables. Lives in regions where the soil is loose & dry, where shrubs offer shelter. Bearing 4-8 litters a year, w/ 3-8 young, and a gestation period lasting about a month, lifespan of up to about 10 years.

Details:


Length: 13.5 in
Width: 6 in
Height: 10 in
Position: Crouching


Age Group:
The Recommended age for Hansa animals is 3 and up to comply with ASTM93 safety standards.

Portraits in Nature is a hand-crafted collection of realistic plush animals. Artists working in a socially responsible and environmentally responsible studio create each Hansa animal from portraits of the creature in its natural habitat.

The Hansa Story
Artisan hand sew the animals "inside out", an old world tradition that results in the mininization of seams, and their bodies are carefully "sculpted" to create "musculature" and "features" like movement in a walking or sitting position that are unique to each creature. On average, there are 42 separate pieces required to make each animal, that must be combined by a team of truly creative artists to create the distinctly realistic features that characterize HANSA animals. (Some animals have as many as 240 different parts!) Each animal is individually hand sewn, to give it a unique "personality", there are more than 860 different fabrics and man-made furs from which the "coat" and "hides" are made, along with over 6000 sets of different eyes, whiskers, claws, noses, and related accessories allocated for creating these wonderful plush animals. Stuffing emphasizes careful attention to the placement of the highest quality man-made materials.

When you hold these wonderfully "life-like" animals, you will see and feel HANSA's emphasis on quality, which is a result of careful attention to design, custom fabric selection, cutting, sewing, stuffing, eye placement, feature creation, framing, air brushing and finishing. Since each animal is hand sewn, there will be slight variations in appearance.
UPC/EAN:
4806021946725
Manufacturer Part #:
4672
Dimensions (LxWxH):
13.00in. x 6.00in. x 10.00in.
Weight:
7 oz.
Origin:
Philippines
Snow Rabbit (4672) has been reviewed 5 times with an average rating of 4.20.
Click here
to show all reviews.
Reviewer:
Carla Villaroman
Rating:
Hansa Toy Store Verified Purchase (What's This?)
Review:
I ordered this plushy for myself as an early present. It was pretty well made and the fabrics used were of a lot higher quality in comparison used to most plush toys. It's very soft if not resembling actual fur. The plush I recieved looked a bit different to the picture.. the body was a bit longer than expected and the face was oddly more catlike due to the frontal positioning of the eyes. The plushy is still very cute and lifelike.
Reviewer:
Darlene Munn
Rating:
Hansa Toy Store Verified Purchase (What's This?)
Review:
I was excited to find this product online & immediately ordered the Snow Rabbit-when received (in a plastic bag only) it had been smashed in transit I'm guessing, as the look was more like a long stretched cat looking animal, not a rabbit at all. I've attached a photo of how it now looks after sitting a few days, which isn't bad, but, it does not look real at all; looks nothing like the image shown on your site, nor seen here. If you have a miracle way for me to 'mold' it to look as you show it should be, I would appreciate it as I can't pass it off at all as real looking with the way it is. Please Help. I believe you have good product, but possibly the shipping method used damaged it? I've let it sit for some time now to see if it would 'settle' into it's rabbit look. I need it correct like yesterday; my studio sessions start now. I know it should be more realistic looking than it is. I would welcome direct contact to me. Thanking you in advance, Darlene Munn-TM, Inc.
"Action Shot" :
Reviewer:
Dimmare
Rating:
Hansa Toy Store Verified Purchase (What's This?)
Review:
every time I look over at the toy I forget and think hes real
Reviewer:
Melanie Cypher
Rating:
Hansa Toy Store Verified Purchase (What's This?)
Review:
Hi Hansa, I wanted to take a moment to leave you a note about the Quality and Workmanship of the Snow Rabbit that I purchased from your store. This Bunny is so cute and looks so real and lifelike. It's amazing the quality and attention to detail that is put into this product. My sister has a real rabbit for a pet, and she couldn't believe how realistic this Snow Rabbit is. Good Job Hansa!
Reviewer:
Kimberly Robinson
Rating:
Hansa Toy Store Verified Purchase (What's This?)
Review:
this was amazing. truly looks like a real rabbit and my grandson said it was just what he wanted. also, i want to say thanks to joe because he was so kind in getting it in the mail quickly. true customer service at its finest. thank you!
How much will shipping cost?
Shipping on orders over $99 is FREE to the Continental US. We will find the most economical and safe way to ship your order, usually via the United States Post Office (USPS) using Priority Mail or FedEx Ground. All orders are carefully checked for accuracy by our staff and even get a handwritten thank you note included with them! For more details, please visit or Shipping Information page.


What is the maximum weight that Ride-On Animals can safely support?
Hansa life-size Ride-On animals have exceptionally strong, yet lightweight, frames that provide ride-on experiences for children of all ages up to 150 pounds.


What age children are Ride-On Animals safe for?
The Recommended age for all Hansa animals, including Ride-On animals,is 3 years and up to comply with ASTM93 safety standards.


How should I clean my Hansa plush animals?
To clean product, use soft cloth, soap, and warm water to remove dirt then wipe with clean, moist cloth to remove soap. leave to dry then brush gently.

On items WITHOUT musical movements, internal wire, and paint decorated surfaces may be washed by washing machine not exceeding 30C.



Our customer service staff is standing by to answer your questions 9 AM to 5 PM Eastern Time. You can also e-mail us any time or call 516.665.2730.


Does hansatoystore accept Purchase Orders?
YES, hansatoystore accepts purchase orders from Educational Institutions. Please fax your PO to: 516.855.0689 or click here for more information.


When does my credit card get charged?
Your credit card will NOT be charged until we ship your completed order. When you place your order on-line, hansatoystore.com gets only an authorization from your bank, but no charge goes on your credit card at that time. When we process your order, pack it and actually ship it, you'll receive a shipment confirmation e-mail and that is when your credit card is actually charged. In the case of partial shipments, your credit card will be charged only for the cost of the items being shipped and their shipping costs (if any). When the remainder of your order ships, the balance due will be charged to your card.


Does hansatoystore ship outside the US?
Yes! hansatoystore gladly ships WorldWide! Your shipping costs will be calculated as you add items to your cart. Click on the link "Click Here to see more shipping options, including International and Expedited" when adding items to your cart to see costs for all shipping options. For more details, please visit our Shipping Information page.


Buy This Item
4 other shopper(s) have this item in
their Cart or Wish List. Dont Miss Out!
Availability:
Online
In Store
Same Day Delivery

Need Help?
Call 844.484.TOYS (8697) or click here to e-mail us.

| | | |
| --- | --- | --- |
| | Ratings & Other Information | |
| | | |
| --- | --- | --- |
| | Related Products | |
Hansatronics Noah's Ark Mechanical (0081)
Sale Price: $3990.00



20% off retail... You save $798.00!



Kangaroo, Mama and Joey - Lifesize (3235)
Price: $489.90
Sale Price: $449.90


8% off retail... You save $40.00!



Fox 15.75 inch (Red, Standing) - 4699
$83.90

Dodo Bird (5139)
$45.00

| | | |
| --- | --- | --- |
| | Related Categories | |
| | | |
| --- | --- | --- |
| | Featured Products | |